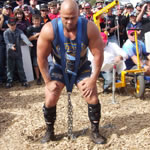 Press & Media
The Wombat has achieved wide recognition by various media including newspaper, boating, aircraft, lifestyle and 4WD Magazines.
In July 2006 the Wombat won the ABC's "New Inventors" Episode Award and in 2007 won the Boating Industry Award (BIAWA) for the most innovative marine product.
We have collected many Perth Royal Show ribbons.
In 2006 the Rapid Anchor challenged Australia's strongest man, Derek Boyer in a pull a Wombat out of the ground contest. In front of a massive audience Derek conceded defeat at 524kg